Testimonials
Read more about some of our user's feedback.
Naomi Freireich

Pro Endurance Rider

"Having seen friends suffer long term effects of concussion I really see the impact that HIT can have on the safety of sports. As someone working in digital health, I also love the innovative approach of using wearable technology and passive data monitoring to benefit our wellbeing."

HT550 '22 L200 '22 FE '22 3 x UK 24hr MTB Champ 🏆 ('17, '18, '19) 2018 European 24hr MTB Champ 🇪🇺

Laurie Tennant

Mountainbike Rider

"After using it for a few weeks it's nice to have it watching over you. I wouldn't feel comfortable in riding and pushing to the same extent if I didn't have HIT."

Jake Ebdon

Pro Rider

"With the continuing high speeds many pro bikers experience now, high impact crashes and concussions are inevitable. HIT helps me take the second guessing out if I have a heavy fall or a big impact. The colour coded system on the app helps me make the right decision to either continue riding, sit it out or seek medical attention. Bringing concussion protocol in sport to the forefront is a must. Well done to Head Impact Trauma for starting the wave."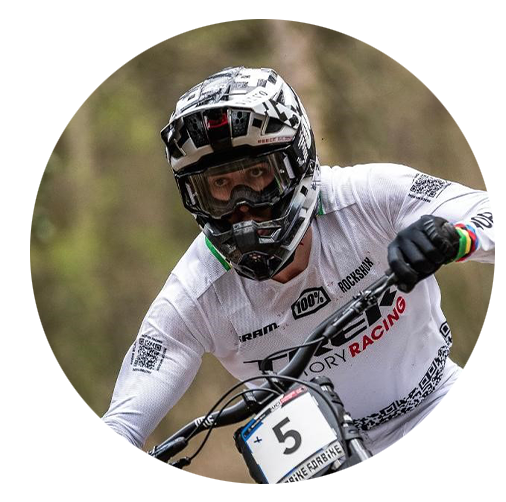 Reece Wilson
Pro Rider
"Sometimes for riders the emotions can force you back on the bike or into a race without getting checked because you "feel fine". This device helps remove the riders emotions from the decision making to make sure correct action is taken to assure the safest possible bike riding. It would be amazing to see this as a mandatory device in sport."
Sam Prescott

Mountainbike Rider

"Thank you for what you're doing, head injuries are the biggest part of MTB I find and last year a mate of mine had a real bad one and I wish he had something like HIT to record it"

Chris Scott

Mountainbike Rider

"I suffered a concussion years ago in basketball and one recently riding and honestly the effect on your head is scary! You can never take it too seriously".

Philip

Mountainbike Rider

"I hit my head a few weeks back and had concussion symptoms for a few days. I think it's a bit scary cause you cant really see it like a wound or a broken bone. Like there is no way to really measure it until now"

Nick McCashin

Pro Rugby Player

Such a great device! I wish I had this device earlier. I have had multiple serious concussions through out my rugby career and before the effects of concussion were identified. It would have removed a lot of uncertainty around when to continue and when to remove myself. I am so glad I can use this device now as I know my tolerance for head impact is much more sensitive than that of others. As I pursue other things like mountain biking its that extra insurance I need. Understanding head knocks in greater detail will help to protect young aspiring athletes for the future.

Gemma

Mother

"As a Mum in a mountain biking family, I was really interested to hear about the HIT device and the potential it has to identify head trauma. How often do we pick our children up, dust them off and send them on their way again? Over the last 5 years, we have gone through several full face helmets which were binned after suffering both minor and not so minor crash damage. It would be good to know what the cumulative effect on my boys' brains has been and as research continues, what effects can be sustained long term. And it's not just about bikes either – I was a keen horse rider in my younger days and have just picked it up again now, mainly concentrating on schooling, dressage and happy hacks. However, although I'm not clearing high fences on a regular basis, I still know that all of that bouncing will inevitably mean some quantity of inter-cranial stress and this device is perfect to understand what a tolerable amount could look like. I'm really excited by this product and where it can lead in the future. The more we all understand about the long-term implications of head impacts, the better off we will be."

Andrew

Mountainbike Rider

"Very interesting head impact force tracker connects to phone via bluetooth. It can track head impacts in sport and recreational activities. You can clip it onto a cycle helmet, for example, and can detect the level of impact G-Force. This is extremely easy to read and i really like the traffic light system to warn the wearer of potential risky behaviours and those impacts. The G-Force measured is 0-140 G, waterproof and has a 72 hour battery life between charges. So if you're boxing, horse riding, motor-cross, extreme cycling, skiing and any activity where you may fall, then this device is a great safety addition. Great easy to use app and i am really happy to recommend this tech device."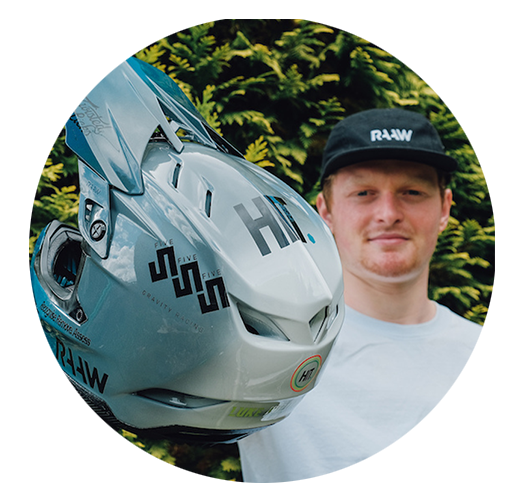 Luke Williamson
Pro Rider
"As someone who has unfortunately suffered multiple concussions in the past, head safety is something that I now consider particularly important. I believe we should take a lot of care when it comes to potential brain injuries, however, sometimes it can still be hard to make the correct decisions regarding them especially if no major issues are shown at the time. Hopefully access to the correct data can improve the informed decision-making process when things aren't clear so that brain health isn't compromised. Going forward, HIT and their product have potential to play an important role in the sport, I'm genuinely pleased to be promoting their product!"
Matt Stuttard

Pro Rider

"This brilliant little device helps take away the guess work in some of the most important situations in riding and racing. You can never take your head too serious, with the HIT device connected its great to get feedback and data linked direct to your phone and blinkers flashing on the device for all occasions whether thats just riding in general or in the case of a crash. Amazing to see where the device has come and the potential for the future as it gets better known and hopefully becomes a mandatory in racing and safety".

Fraser MacDonald

Recreational Skier & Snowboarder

"The Impact Device by HIT is an essential piece of kit, attachable to any helmet it provides me with great information to help keep me safe. Linked seamlessly with the mobile app, in seconds I am ready to hit the slopes. Also, the early notification feature gives me great piece of mind. I cannot recommend this product enough!"

Mark Goodwill

555 RAAW Gravity Racing Team Manager

"This technology possesses such promise and benefit that it would be great to see a day where it's widely accepted and utilized as well as closer to being a mandatory process in bike racing. It offers the ability to not only manage concussions but also all the data and experience obtained will help go towards understanding brain traumas and treatment better and potentially aiding helmet manufacturers improve helmet safety."